Nagpur Latest News
17-year-old takes police to secret chambers in Ganga Jamuna
There was a room just behind it, where about four minor girls could crawl comfortably and the girls could stand.
Nagpur: On Friday 2 tunnels leading to secret chambers where minors are hiding during police raids, 1 brothel in the red-light area of ​​Ganga Jamuna was discovered after a 17-year-old boy showed the way to the police.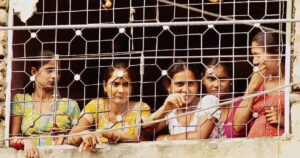 Police officers could initially see only one wall behind the bed in a cramped room on the ground floor. After the minor was told a section of the wall was pulled down to discover a hollow opening.
There was a room just behind it, where about four minor girls could crawl comfortably. And the girls could stand.
On this first floor also there was a similar hidden chamber at the end of a tunnel. Police officers now feel that inter-connected chambers can also be in it.
Senior I Parag Pote of Lakadganj police station has said that these cells were completely closed. And these walls were recently painted well. It seems to us that these chambers were also closed after the police officers started completely shutting down Ganga Jamuna just after CP Amitesh Kumar ordered
Sold in 20 Lakh Rupees
The minor who helped the police officers search these cells. was sold by some people including his mother in the year 2017 for a price of about 20 lakh rupees. From his native place in Rajasthan, he was taken to a dance bar in Mumbai.
After changing hands once again for about 20 lakh rupees, that minor was later taken to Gwalior. Then once again it was brought to Ganga Jamuna in the year 2020 after selling it for about 20 lakh rupees.
Then that minor became friends with a customer. Who had helped him a lot to escape from there in the night time. And then she went back to Rajasthan again. But his grandmother had urged him to go with his own younger brother at the same time soon. Because the family was preparing to sell it once again.
About a fortnight ago, this minor had contacted the Lakadganj police station.
PI Parag Pote has said that the police of Lakarganj later went to Rajasthan and Madhya Pradesh to nab the mother of this minor. A relative and another goon turned smuggler who is currently in police custody. Now more arrests are also likely.
Also Read: Excessive burden is being put on CBSE teachers in Nagpur