Nagpur Latest News
Trending
5-year-old boy was crushed to death by speeding private bus
The deceased child has been identified as Shubham Sajan Kakade, a resident of Parsheoni and Shubham Sajan Kakade's father is a farmer and he was the only son.
Nagpur: A 5-year-old boy, who was dancing in a procession, was run over by a very high-speed private bus, right in front of Pandav College, on the busy Umred Road in the afternoon of Wednesday.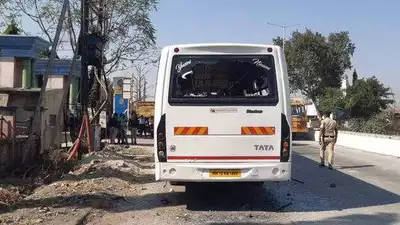 The five-year-old boy deceased has been identified as Shubham Sajan Kakade. The deceased is a resident of Parsheoni. And Shubham Sajan Kakade's father is a farmer.
Enraged by this incident, the bus was damaged by pelting stones on it. As a result, the traffic on the road of Umred was disrupted for a very long time.
Police have also told that Shubham Sajan Kakade had come to Nagpur to attend his maternal uncle's wedding. Then on Wednesday morning, a procession was taken out from Kanha Celebration on the road of Umred. Shubham Sajan Kakade was also dancing in the band along with other guests. Shubham Sajan Kakade was crushed by a high-speed private bus of Suraj Kamdi at around 12 noon. Due to which this child died on the spot.
Calm down angry mob & smooth traffic
Kamdi tried to run away very fast from the spot. But the passers-by have succeeded in stopping this bus, about half a kilometer away from the accident site. Then later the angry mob asked all the passengers to get down from the bus and then pelted stones on it.
Then as soon as this information was received, the police personnel under the leadership of Senior Police Inspector Sarthak Nehte of Hudkeshwar police station reached there. Sarthak pacified the angry crowd and then made the traffic smooth.
The police of Hudkeshwar has arrested Kamdi after registering a case of this fatal accident. Police officials have also taken into custody 5 suspects on charges of stone pelting and damage to the vehicle.
Also Read: After more than 3400 tests no case in the Amravati division