Nagpur Special
6 cannons of British Era recovered from Kasturchand Park Area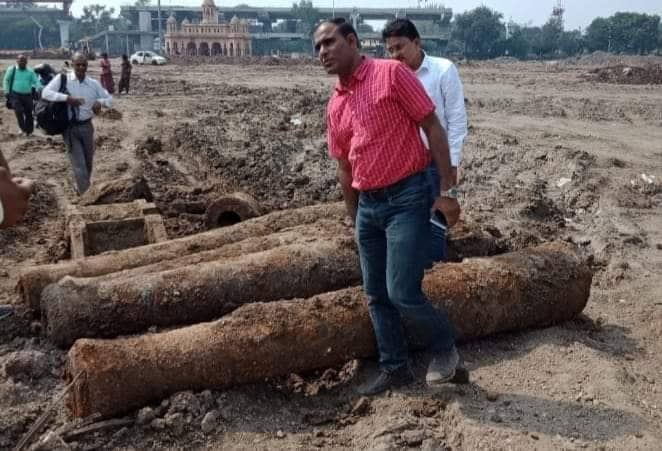 Kasturchand Park often called KP had buried many treasures in its chest and yesterday we got the proof of the same, as well as six British age cannons, were found inside the park. The solar industries under their CSR activities had planned to make walking track inside the park in association with the city-based body NMC was carrying out the digging thing when they realized something like canon inside. Soon the news spread like wildfire.
Thus the Heritage Conservation Committee or HCC also extended their support to dig out deep to end up getting the six cannons of British age. It was around 8 pm on Wednesday when this news broke out and by yesterday's first half all the six cannons were removed. Soon the members of the ASI or archeological survey of India also arrived at the location and got involved. As per City collector, Mr. Ravindra Thakre, the cannons recovered are from the 118 Battalion and it will be handed over to the concerned department of ASI.
The local ASI will take their custody and will maintain the same to later shift it to the local museum. However, the decision to display the same would be displayed later. Four out of the six recovered cannons resemble the existing designs of the cannons already found for display on the KP. Visiting the park you can find three of them are on display kept on different locations in the park. These were used in the Battle of SItabuldi in the year 1817 fought between the British East India Company and the then Maratha Rulers. The faded R sign over the cannons reflects that these belong to the British era.