Entertainment
Bigg Boss 15: Pratik Sehajpal agrees with Devoleena Bhattacharjee's stance during her fight with Rakhi Sawant; calls him 'chamcha'
Bigg Boss 15: Pratik Sehajpal agrees with Devoleena Bhattacharjee's stance during her fight with Rakhi Sawant; calls him 'chamcha' Assignments and contrasts in assessments in the Bigg Boss house bring about numerous false impressions and battles. In the most recent episode of the show, something almost identical happened when Devoleena Bhattacharjee took a stab at aiding Tejasswi Prakash. Before the disposal task started, Devoleena was seen offering some guidance to Tejasswi on the best way to perform it well. Rakhi Sawant, who was the 'sanchalak' of the assignment, hindered and told her to not help her at all.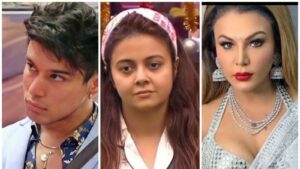 Irritated by Rakhi's obstruction, Devoleena told her that she will help her companion by giving ideas, not at all like her, who doesn't esteem any connections. She added that not aiding her companion is against her morals.
Rakhi rushed to respond and told her to not school her on connections. Attacking Devoleena's connections she referenced that everybody has perceived how she made connections and broke them as well. "Tum humein mat batao rishton ka (You don't school us on connections)," she said.
Pratik Sehajpal, who saw them battling about a simple issue hindered and told Rakhi that Devoleena can help whomever she needs to. He added that it's her decision and one can't scrutinize her.
Irritated with this, Rakhi considered him a 'chamcha' and 'chaploos' and told him to not jab his nose regarding the present situation. She further told him, "Converse with my leg" and provoked him. Reacting to this, Pratik helped her to remember what she was told in the WKV episode and requested that she not make the pointless substance. "Faltu ka content mat creat karo," he told Rakhi.