Nagpur Latest News
Trending
BJP called meeting of councilors, MLAs
There is also a possibility that if Union Minister Nitin Gadkari is in Nagpur district, he may also preside over the meeting.
Nagpur: The BJP has called a meeting of all its office bearers, MLAs and councilors, on Wednesday at 8 pm. Due to which the speculation has become very intense that the Congress is consolidating its political assets too much in the background of the move of councilor Ravindra Bhoyar to the party. And this party has also issued a whip to all the corporators not to leave the city at all till further notice.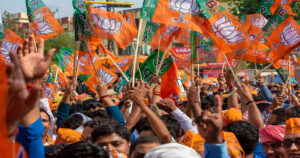 Along with this, there is also a possibility that if Union Minister Nitin Gadkari is in district Nagpur. Then he can also preside over the meeting.
Mayor Dayashankar Tiwari thoroughly confirmed the development, but strongly rejected suggestions that Ravindra's exit had nothing to do with it. Tiwari has also said that Ravindra was an exception, and nothing more. Bharatiya Janata Party is a party of committed workers and there is no threat of any kind of defection in it at all. Our meeting on Wednesday is only a part of this regular conversation which happens between all the party members. As we head towards the political season, it is quite clear that these meetings will focus on all election issues.
Many people close to Ravindra also claim that at least 8 BJP councilors are on the verge of giving up the post.
Councilor for not leaving town
Tiwari, one of the senior most leaders of Bharatiya Janata Party, has said that "How much value can you all put on whoever says it. And at the same time, I don't think people wait that long to do anything. If those people had to leave, then they would just walk away. But nothing like this is going to happen with Bharatiya Janata Party, because of this I repeat that Ravindra's case is an exception."
The mayor has stated that there was absolutely no 'post-ravindra' reaction to whip corporators for not leaving the city at all. Tiwari has also said that he had issued that whip almost 2 weeks back. All the members were asked to stay in district Nagpur.
While Tiwari vehemently refused to consider any views that the party has been overly concerned about since Ravindra's exit. Other leaders also pointed out that it was a much talked-about issue.
All eyes are on Wednesday's meeting only. That's because the civic elections are just a few months away, teaming up with Ravindra, the 1st aggressive Congress party. Who tries to throw away her pound of flesh. Suddenly the political equation can also change.
Also Read: Homeopath Bhoyar has assets worth Rs 4.6 crore, an increase of 189% in the last four years