Nagpur Latest News
Cinema halls ready to reopen on Friday
This week is just a 'dry run' with the screening of films released over OTT only
Nagpur: Many cinema halls in Nagpur district are getting well prepared for their 'first day, first show' from Friday. Which comes after the closure of about 7 months.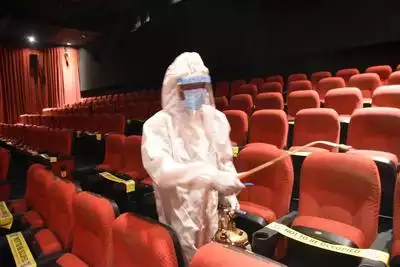 However, the enthusiasm for a one-time reopening is well evident among all theater owners. This week is just a 'dry run' with the screening of films released over OTT only. Reason: The blockbuster expected in the Diwali week with all the new releases is gearing up very well for the box office collections.
A national level film distributor, Manohar Wadhawani, who keeps a close watch on all the films in the entire pipeline. He has said that "Everyone's eyes are now on an action packed Hindi film from a big banner. Which is well prepared for the exhibition. Just because, the real magic at the box office would happen from the date of November 5th as every major maker had postponed their release due to the Covid pandemic."
Watching Movies on Big Screen
There will be some things completely new for the film watchers once again coming back to watch movies on top of the big screen.
Another biggest change will be that due to this new seating plan you can no longer sit next to your friends or loved ones at all. Sanjay Surana is the owner of cinemas all over Maharashtra and also shows them with the help of contracts. He has said that "Now the new seating plan is just like a chessboard. So you have to leave every next seat absolutely blank. It is absolutely mandatory. And also included in the guidelines issued by the government. " So, even if any of the people watching the film are from the same family and have traveled together, they cannot sit together inside the cinema hall at all.
The owner of a movie theater in Wardha named Pradeep Bajaj. He has said that now all people will have to make a habit of a cashless environment. "The government has now advised us to use very little cash for the sale of food and beverages. That's why we will most likely be using QR bar codes. Now I will avoid card swiping machines. Because it takes more time. And there is a queue too. So now it is advisable to have any kind of payment app on everyone's phone,".
Also Read: Man booked for having unnatural sex with wife, Less than 30% passed HSC, SSC supplementary offline exam