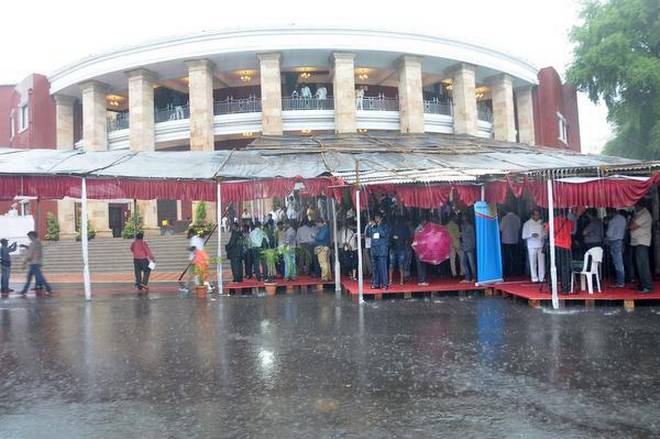 The sudden stoppage in rains in the city had created a humid and hot kind of atmosphere in Nagpur. But thanks to the sudden downpour on Monday Evening, it seems to have helped the city get rid from the heat and humidity in Nagpur. The city along with other areas close to it have witnessed the rain as we have seen other parts of Vidarbha region too have witnessed the rains. Many of the people who were unaware about the sudden rains were seen stranded for a while or enjoying the rains while returning home. 
The day in the afternoon was bright and sunny and we have seen people suffering from the sudden rise in temperature due to the stopping of rains since past few days. This seemed to have continued till the rains turned with some thunder storm as well. For the short span of time, the city witnessed heavy rains and people were seen talking about how it rained cats and dogs in the city and around the areas of the same.
However, the heavy rainfall has hampered the visibility on the roads. The two wheeler riders were seen not carrying out the raincoats and thus were seen affected by the same. They were seen taking some temporary shelter to shield away from the rain till it stopped. So far Nagpur has witnessed around 7 mm of rain, while others in the areas like Wardha, Yavatmal and Washim have received the highest amount of rainfalls with figures like 48mm, 28 mm and 27 mm respectively claimed the reports of the Hitavada Cityline.