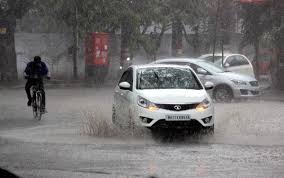 As the city gets decent rain during the pre-monsoon season, we now hear reports from the Indian Meteorological Department or IMD to have some heavy rainfall during the upcoming days – 12th and 13th June.  As per the reports published in The Hitavada, heavy rainfall will follow thunderstorms in the city. The monsoon is often witnessed in the city in the second week of June but with some changes taking place in the region, it has been pushed to 12th June. 
We can now expect some heavy rainfall which will continue the coming 2-3 days and then some relaxation will be seen. All thanks to the low pressure area that has developed good condition from the East Central bay of Bengal which is seen pulling towards the West-Northwest direction. With high rainfall expected in the said three days, Nagpur is experiencing high temperature closing to 40 degrees at the moment. The Bramhapuri area recorded the highest with 43.3 degree cel, while others like Akola, Nagpur, Wardha, and Washim remained closer to 40. 
So, with the high temperature recorded in the city along with the region, one can expect some respite to the people from the heat with heavy rainfall expected on the said dates. Well, lets see how things would move but at the moment, things are not normal anymore. Stay tuned to know more about it and others only with us. In the meantime, if  you have anything to share, do comment and let us know more about it.