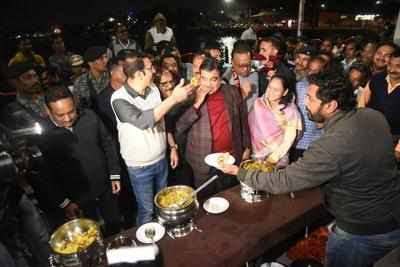 It was a long wait for the Nagpurians to see the proposed Khau Galli getting inaugurated alongside Gandhi Sagar lake often called as Jumma or Sukhrawari Talab. It was inaugurated by none other than the city-based politician Mr. Nitin Gadkari, the union minister for industry and infrastructure. The Khau Galli was supposed to come out way back in 2017 but with some delays in the work, it took long for the street food to get inaugurated.
While inaugurating the Khau Galli, the minister said that like parks, and other public places, the food malls often called as the Khau Galli should also be developed and made them part of the growing cities like Nagpur. At this juncture, we had all the leading politicians from the city who were present at the show. These include the city mayor, Mr. Sandip Joshi along with the MLA Vikar Kumbhare was also present. The NMC officials were also present at the show.
The Khau Galli at Nagpur has around 32 stalls and it would be found six days a week to attract people of Nagpur to enjoy good street food. The people of Nagpur would feel secured at this place as it has been but under 24×7 surveillance so that the anti-social elements could be taken care of the same. As per reports, there were 72 applications have been received for it but only 32 were allotted. Stay tuned to know more about it and others only with us.