Nagpur Latest News
Trending
'Miracle on Wheels' group stuns everyone
This beautifully choreographed dance and skit performance was a total of 2 hours long and it was divided into 3 parts.
Nagpur: A very famous quote from Robert Hendel can be recalled looking at the extremely unbelievable performance by the group 'Miracle on Wheels', 'There is no incapacity at all greater than the inability to see people even more'.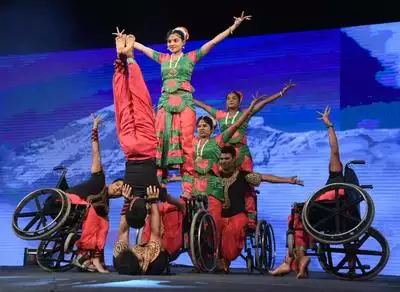 With many dancers in wheelchairs and many deaf, the troupe has everyone frozen in their seats and speechless.
This beautifully skits performance and choreographed dance was a total of 2 hours long. And it was divided into 3 parts. Along with this, the first part has dived into the rich heritage and culture of India.
No matter which empires have come and gone, The roots, traditions, and values ​​of ancient India have always been strong.
Government's Make in India initiative
The second part of this performance is also a reminder of his freedom struggle and victory of independence. Taking them through their own past journey through the sacrifices made by their freedom fighters and the revolution they created, this part made the audience feel patriotic and proud of their country and how far they have come. Many of the highlights were the heart-wrenching events of Mahatma Gandhi's earlier efforts of his patriots, the rebellion, the Jallianwala Bagh incident, and the historic declaration of independence.
Its third part was also in the continuation of the second part. Which showed the journey of the India from its independence to its own modern power. Along with this, his performance also included praise of the present government's Make in India initiative and success in the vaccination rate of covid.
Minister of Road Transport and Highways of India Nitin Gadkari's admiration for transport transformation and road and ambitious future plans can also be seen. In the end, tributes were paid to the martyred soldiers and war heroes of our country. And with that, the performance has ended on a very beautiful note.
Also Read: 1% Only Pediatric Coronavirus Patients Require Hospitalization: Doctor