Nagpur Latest News
Trending
More than 800 students of B.Tech, B.Arch and M.Tech programs have received job offers from around 200 companies
Training and placement officials have stated that this was the highest number of jobs ever offered in the campus's history.
Nagpur: In the 2021-22 batch of Visvesvaraya National Institute of Technology (VNIT), Nagpur, more than 800 students of M.Tech, B.Tech, and B.Arch programs have received job offers from around 200 companies.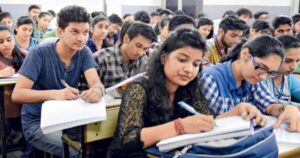 Training and placement officials have stated that this was the highest number of jobs ever offered in the campus's history. And this figure was also likely to increase. The institute expects to achieve 1,000 campus placements by the end of the month of April. At which time these final year students will pass out.
Around 100 undergraduate and 200 postgraduate students now have to appear for the placements. Director Pramod Padole has instructed to keep the placement open for the last batch as well. Where about 549 students were kept Because it was in the grip of an epidemic.
There have also been recording job offers for the batch of students who have completed their last two years in online classes. The average placement in the last 5 academic years has been around 400 to 500.
IT services, financial services, e-commerce, and educational services were the many sectors where students got jobs. Many employers have selected about 38 students from various engineering branches.
Average Salary Increased
There are 8 branches of the B.Tech course, MSc 3 and MTech 20 in addition to BArch and Ph.D.
The Company's Average Cost (CTC) has increased from 8.42LPA to 10.36LPA in the same year itself. Along with this, about 40 more companies have also participated in the drive of placement, Whereas last year there were 158 companies.
Pramod has said that the institute has made several changes in its training and placement mechanism in the recent past. They have started special courses of about 120 hours. Every student has to go through these courses. Which are related to core subject knowledge, soft skills, overall presentation, and abilities. He had implemented them from last year itself. And still getting very good results. Special manpower was also engaged for this activity.
The Director has also said that the average salary has increased by more than 60%. The job offer for Post Graduate (PG) students has improved a lot. They are also expecting very good prospects for PG. According to the demand of the industry, instead of 6 months, the full internship of 1 year has been started. This step is showing the result.
Placement Executive Harshad Panse and Training and Placement In-charge Kishor Bhurchandi provide liaison between students and companies.
Also Read: Third wave will be younger, not children, but non-vaccinated seniors at greater risk: Study