Sports
Nagpur Blues Starts with the win in JSW Elite Division Football Tournament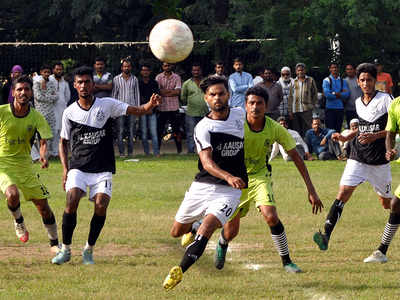 It was a winning start for the city football team called Nagpur Blues at the JSW Elite Division Football Tournament, which is organized by the group called Nagpur District Football Association (NDFA) at the popular football ground at Central Railway Ajni. Nagpur Blues beat the opponent Big Ben by 3-2 thus recording their first victory in the tournament, which kicked off yesterday at the said venue. As the match commenced, it was a tough battle between the two in the first half.
Both the teams were playing with zero with the tough match, however, Nagpur Blues got its first goal on the 29th minute by Aditya Chandane. Just after six minutes, Edwin Khalko from Nagpur Blues scored the second goal. On the 40th minute, it was Mihir Baghel who then scored for his team called Big Ben as he got a good opportunity and he converted the same. Chirag Naidu then returned from his injury and got lucky scoring the second goal.
However, the second half also witnessed a lead with their constant attacking moves. It was on the 80th minute when Khalko struck his second goal in the same match allowing the victory for the Nagpur Blues. The tournament was inaugurated by Mr. Haresh Vora the NDFA president amidst the presence of other NDFA officials including Eugene Norbert, Iqbal Kashmiri, Latif Ahmed, Naquib Akhtar, A B Khan, Vinod Tiwari, and Prof. Atmaran Pande. The tournament will have its second match on Monday between Rahul Club and Ansar Club at 3 p.m.