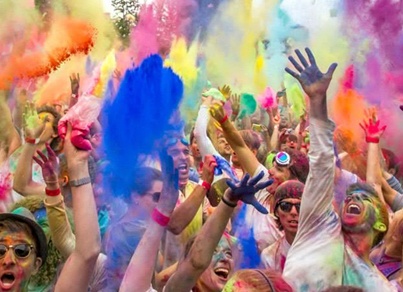 The slogans and chants like Bura Na Mano Holi Hai have been heard a lot around us. The city witnessed a decent celebration of the festival with people playing with different colors and water. People of all the age groups were there on the streets playing Holi with colors and water. The festival is the celebration of truth over evil, and it also symbolizes different colors coming together to celebrate life. It inspires and thus helps enjoy the glory of nature found in different colors.
As the day dawned, people started their celebration with their family members and they were soon joined by others. The songs like Rang Barse and Holi Hai or Itna Maza kyo Aa Raha Hai, etc. were being heard from different parts of the city when people were playing with the color. People were seen using all the vibrant colors while playing and celebrating this big day.
The faces of the people seemed excited and exotic and they were dancing and having a good time with family members. On top of it, the different Holi food prepared for the day were also enjoyed while people playing with colors. The colorful and freaky caps were shown all around and people seem screaming and to yell with their blowers all day thus enjoying a good time together. Stay tuned to know more about it and others only with us.