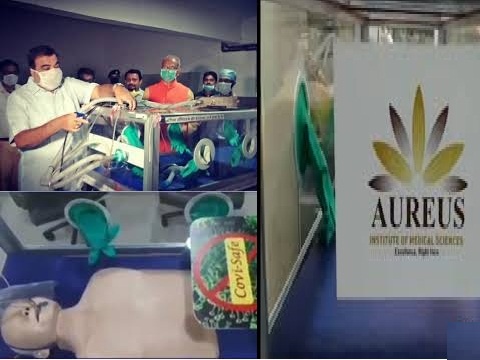 A hospital in Nagpur called Aureus Institute of Medical Sciences have designed a simple novel container to help in transporting the patients suffering from the COVID 19. They have called the box " Covi Safe. When the city hospitals like GMCH and IGHMCH are fighting for cases of the deadly virus, we see the Nagpur hospital coming out with his unique solution helping the patients transport using the box. As per reports, they have now donated the same to the IGGMCH. 
As per reports, it was handed over to the said hospital in the presence of Union Transport and HIghway Minister Mr. Gadkari. As per reports, the box can help in carrying the patients affected by teh virus. So far we have 19 cases in the city who all can use this box to get a complete isolation from others. The model was first designed by the team of doctors led by Dr. Anant Singh Rajpur, Dr. Ashish Ganjare, Dr. Praikshit Mahajan and Dr. Vikas Gupta. This is one of its kind boxes in India that offers several benefits to the medical officers dealing with the case.
As per reports, no healthcare facility needs to be compromised for other patients during the shifting of the case of that turned positive. This will also help the other hospitals in cases of the virus and then transport the patient safely to the government hospitals who have been treating the virus. The concept of this box has been on paper for sometime and it took time to get the right safe. The box Covi safe is a air tight chamber that can be used to transport the patients suffering from this virus.