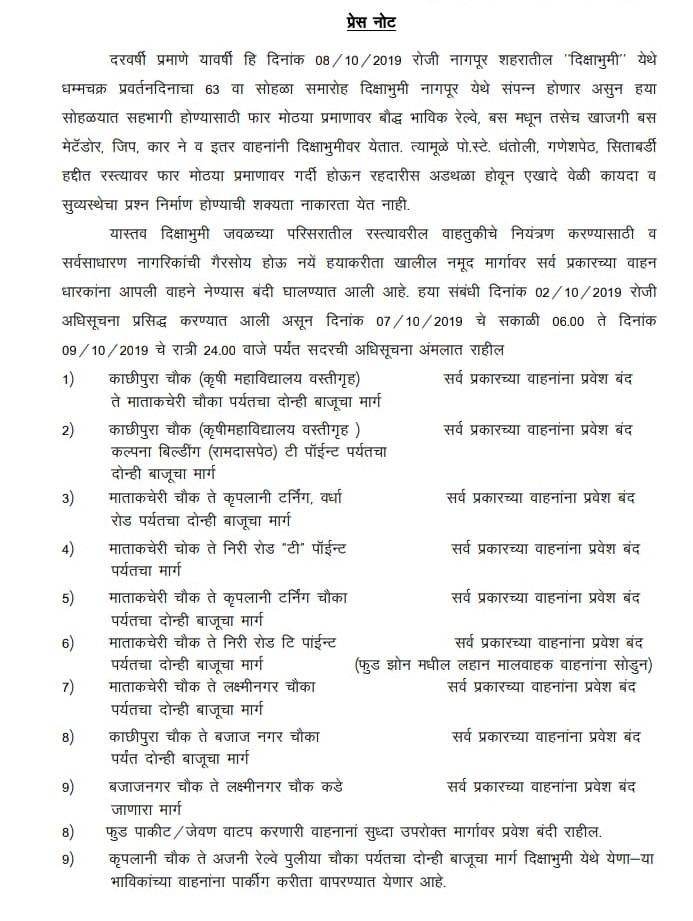 As the Nagpur Traffic Police joins the Microblogging site called Twitter, we now see them active over the social networking site for the Nagpurians to make them aware of the traffic updates. Interestingly, they had joined Twitter only a few days before and now are using this social media platform to update the citizens of Nagpur. This time they have embarked upon the list of roads that have given diversions to the city traffic that would remain blocked on the eve of Dusshera.
Since the city would witness a number of the procession in the area, it is imperative to see the diversions to traffic making things easy for the people to enjoy the festive time with great fervor and spirit. Some of the areas that have witnessed the diversions from 7th Oct to 9th Oct 2019 till 24:00 include the following:
Khachipura Square – Agriculture University Hostel – Both sides of Mathechari square and T Point
Matakacheri Square – Kriplani Square to Wardha Road
Matakacheri Square – NEERI Road T Point
Matakacheri Square – Laxmi Nagar Square
Kachipura Square – Bajaj Nagar Square
Bajaj Nagar Square to Laxmi Nagar Square
Kriplani Square to Ajni Square
Several areas would remain closed on the eve of the festive time. You are therefore required to move as per your directions given by the Nagpur Traffic Police. The detailed routes are shared by the police on Twitter, which we have shared with you. Stay tuned to know more about the traffic news and others only with us. Till then do comment on the news if you have anything interesting to share.