Nagpur Latest News
Trending
NMC identifies 647 encroachments likely to be demolished within 2 months for construction of SAI
Union Sports Minister Anurag has directed the officials of the Union Ministry of Youth Affairs and Sports to ensure that the encroachment is removed within 2 months
Nagpur: The NMC has identified around 647 encroachments to build the (NSCI) National Sports Coaching Institute and Sports Authority of India (SAI) Regional Center at Wathoda in East Nagpur, Which is also likely to be demolished within about 2 months. For about five and a half years, the project is stuck in one place even after the Bhoomi Puja was done earlier.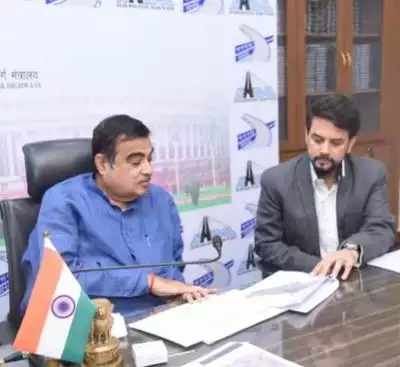 Union Road Transport and Highways Minister and The city's MP whose name is Nitin Gadkari had a meeting with Union Sports Minister Anurag Thakur about this project a day earlier. East Nagpur MLA Krishna Khopde was also present in the meeting. He has stated that the encroachers will be rehabilitated on about 7 acres of land, which will be part of the property transferred by the Nagpur Municipal Corporation (NMC) for the project.
He has also said that open plots will be given to them but no compensation of any kind will be given for the construction of houses. And the encroachment was only on the property owned by Nagpur Municipal Corporation.
NMC handed over land 141.51 acres
Union Sports Minister Anurag has directed the officials of the Union Ministry of Youth Affairs and Sports to ensure that the encroachment is removed within about 2 months, according to Krishna.
It has been said that the ministry will remove this encroachment with the help of Nagpur Municipal Corporation and NMRDA. Anurag has now issued instructions to all the officers to take the help of the police department and also to start the construction of the campus wall once again.
NMC had handed over a land of about 141.51 acres for this project. Gadkari and other dignitaries also performed Bhoomi Puja on the date of April 30, 2016. But encroachments had also blocked 1 road. And the encroachers did not even allow the wall of the compound to be built.
Sports Authority of India had also proposed to execute the project in 3 phases at an estimated cost of about Rs 160 crore.
In this meeting, Dronacharya and Arjuna award winner Vijay Munishwar, NMC sports officer Piyush Ambhulkar, additional municipal commissioner Deepak Kumar Meena, legislators Pravin Datke, Mayor Dayashankar Tiwari, NIT chairman and officiating municipal commissioner Manoj Kumar Suryawanshi, Vikas Kumbhare, and others were also present.
Also Read: Now difficult to get status of 'Covid Hospital'