Nagpur Latest News
Residents scuffle in Gadchiroli Paper Mill Colony click selfie with two leopard cubs
2 cubs in the colony in the early morning hours they had picked up the cubs about a month old.
Chandrapur: Many people of Ashti Paper Mill residential colony in Aheri tehsil of Gadchiroli rescued two leopard cubs by forest workers of Markanda (Kansoba) on Thursday morning. Inside the video that went viral on social media, paper mill residents as well as security personnel holding the cubs. Taking selfies with them and they can also be seen on the go.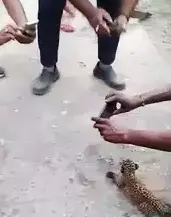 Sources have said that several residents had found 2 cubs inside the colony in the early morning hours. They had picked up the cubs about a month old. And then after that the cubs were released on the road. Then after that people picked him up, Some people even had a scuffle with the cubs. And also took selfies with the cubs and even a security guard took the cub in his hand and walked around and clicked pictures with the cubs.
DFO Chandrakant Tambe
The information of this entire matter is DFO whose name is Chandrakant Tambe. It was only after it was given to them that he sent a team. He also claimed that RFO, Markanda, Raut have brought both the cubs to the RFO office.
Sources have told that both the cubs are female. One of the two cubs has been learned to be very weak in the hind limbs. And that cub can also be seen limping. And those forest workers have also warned all the people not to come out only after evening. Because that leopard can come anytime to look for these cubs.
A male leopard was recently caught by the forest department in the paper mill premises. And till now the forest workers are not quite sure whether the two cubs should be reunited with their mother or whether the lame cub should be taken back for treatment.
They are also contemplating about capturing the mother of the cubs and freeing her completely in a faraway forest with the cubs once the lame cub is cured.
Also Read: Rashtriya Swayamsevak Sangh Chief Mohan Bhagwat: Population policy should be considered