Nagpur Latest News
Surjagarh picket ends, mining projects will be opposed
State's Relief and Rehabilitation Minister Vijay Wadettiwar. Who has asked these local people to protest against the mining project.
Nagpur: The agitation against the Surjagarh iron ore mining project organized at Etapalli in South Gadchiroli, 'Thiya andolan' has come to an end in a peaceful manner. All the present agitators had submitted their report before the (SDM) sub-divisional magistrate, but they had resolved to continue their protest. There are only about 25 such mines approved by the government within the district.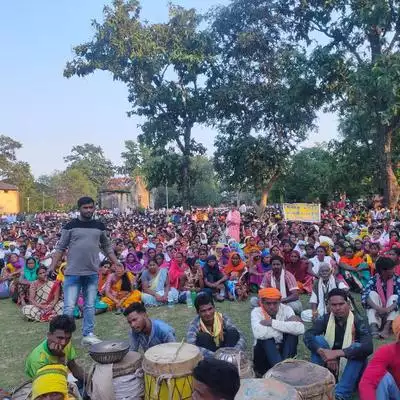 State's Relief and Rehabilitation Minister whose name is Vijay Wadettiwar. Who has asked these local people to protest against the mining project. They did not come, which angered all the tribals who had gathered in the movement. Former Congress MLA whose name is Namdeo Usendi. He has said that Vijay could not come in this movement. Because Vijay had to attend a very important meeting in Bangalore.
In the Maoist belt of East Vidarbha, around 4,000 protesters in all had expressed great concern about the security of the district police. However, after the peaceful end of this front, the police have also got a lot of relief. But many protesters are still camping in Etapalli. And it is also learned that they may even plan to enter the mining site near Surjagarh to start this protest all over again.
Assurance of leaving by morning
SP Ankit Goyal has said that the security arrangements have also been maintained. And now every kind of movement is also being monitored. "The protesters who have come from far and wide have also given assurance of leaving by morning time. If the protesters resort to any kind of illegal activities. Then action will be initiated accordingly." he said.
Namdeo Usendi, who along with Ajay Kankaldwar Zilla Parishad President, Advocate Lalsu Narote, and Zilla Parishad members Sainu Gota led the movement. He has said that the protest was also focused on some questionable issues surrounding the project.
All the protesters have also told the Sub-Divisional Magistrate that the mining company is fully prepared to use explosives for this project. But Maoists can also try to rob them for their anti-national activities.
Namdeo Usendi has said that Maoists use mines weighing up to 20 kg. Which often completely spoils the police vehicles. If they find explosives in very large quantities, then it can create a much more serious problem.
Also Read: Nagpur boy tops All India CS exam after failing twice