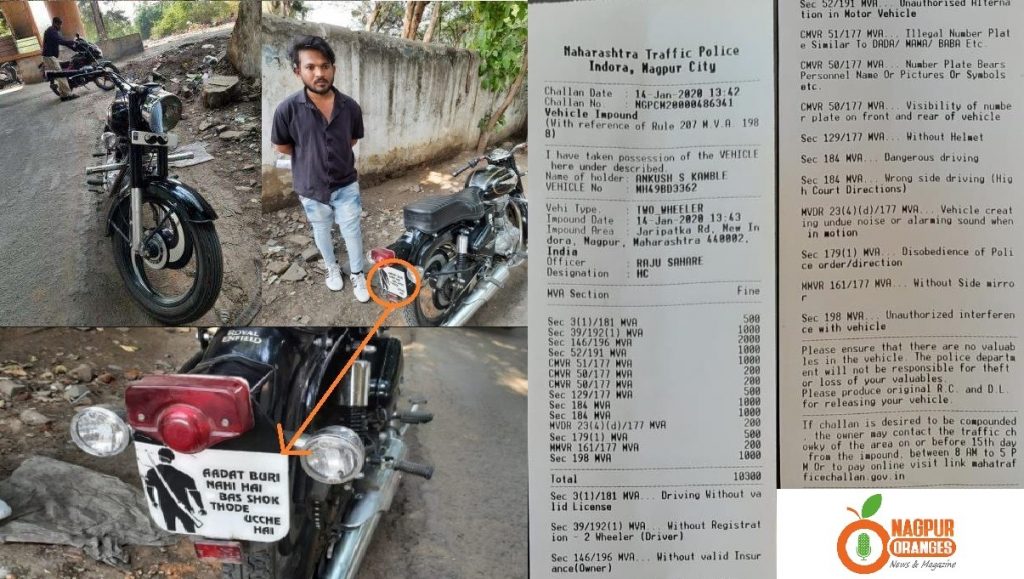 If you found Fancy Number Plate to be a stylish thing, think again. It can cost you huge money for the Challan by the Traffic Police in Nagpur. Recently, a city-based youth Ankush S Kamble who owns a Royal Enfield MH49 BD – 3362 was carrying his two-wheelers with a number plate having some cartoon with a slogan without having the number in it. The youth was stopped at Indora Square and slapped a challan of 10,300 INR. Yes, you heard it right, it did proved costly for the man.
He was riding his bullet without helmet, RC Book, and Insurance when the Traffic Police stopped him at Indora Square, he was clueless and was not able to produce the documents to prove. With none of the number plates showcasing the reg number on it, he penalized heavily. Besides, his bullet was making some annoying noise as well and was not even having the mirrors as well.
Since he was not able to produce the required documents, he was penalized for the same as well along with carrying the bullet with no side mirrors and other things. And on the top of it, the Royal Enfield carried no reg number before the vehicle that made him nabbed by the Traffic Police. By putting the youth to such a whopping amount of Challan, the Traffic Police has set a precedent and that it will be remembered as an example in Nagpur. Stay tuned to know more about it and others only with us. Let us know what do you feel on this issue, was the Police fair or rude to the commuter?