Entertainment
Bigg Boss 15: Karan Kundrra tells Tejasswi Prakash, 'Tera everyday Daily Soap ka Naatak Chal raha hai dikh raha hai mujhe'
The battle between Karan Kundrra and Tejasswi Prakash
Bigg Boss 15: Karan Kundrra tells Tejasswi Prakash, 'Tera everyday Daily Soap ka Naatak Chal raha hai dikh raha hai mujhe'
The battle between Karan Kundrra and Tejasswi Prakash increases in the most recent episode of Bigg Boss 15. Later a major altercation in the past episode, where the two were not on talking conditions, Tejasswi goes to Karan with a bowl of food to take care of him.
In any case, a steamed Karan denies having food from her hand and advises all her it to the side. He says he will have it later. Umar Riaz accompanies some espresso and Karan tastes. This surprises Tejasswi.
Karan tells her, "Don't do every one of this dramatization. I will eat it. You are focusing on me, camera pe dikh jayega. Tumhara jo day by day cleanser Chal raha hai Bigg Boss house ke andar wo dikh jayegi." Tejasswi questions him, "What camera and what day by day cleanser. I care for you. You haven't eaten anything and I simply need to ensure you eat."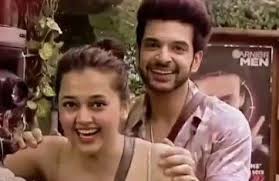 Karan helps her to remember crying and embracing Devoleena the earlier evening and whining about him. Karan is annoyed with her for calling him a liar and confiding in Rakhi all things considered. He says, "The contrast between you and me is, I am not calling you a liar."
Karan leaves and afterward, Tejasswi again attempts to discuss with him. She gets cautioned by Bigg Boss for murmuring yet she proceeds with the discussion.
Later during the assignment, Karan and Tejasswi were in constant disagreement. At a certain point Tejasswi shouts, "How you are conflicting with me, it shows you never f***ing cherished me."
Notwithstanding, around evening time Karan and Tejasswi lie on a similar bed and he attempts to conciliate her and fix up with her.