Nagpur Latest News
Trending
Around 300 trees were illegally cut near Akola
On Sunday, Akola RFO VR Thorat visited the spot and then started its investigation.
Nagpur: Around 300 trees were illegally felled near the Borgaon Railway Station Road under Borgaon (Manju)-Palso and near the Borgaon railway station Road by alleged timber contractors who owed allegiance to the farmers and later sawmill owners.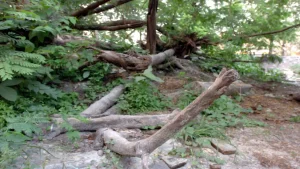 "The felling of the roadsides and fields must have been happening secretly for the last about 10-15 days, but the forest department woke up only when we blew the whistle to see the huge damage." said Munna Sheikh, founder, Nisarga Sawardhan Bahuudddeshia Sanstha, Akola.
On Sunday, Akola RFO VR Thorat visited the spot and then started its investigation.
Talking to TOI, Thorat has also accepted that he found around the 20 big trees felled on agricultural land and roadside trees. "The number of trees could be even more. We are still counting them and probing the role of those involved. The picture will be clear after recording the statements of the farmers," Thorat said.
Most of the trees are cut during the night
Thorat has also accepted that all the trees have been felled illegally as no permission was given by the forest department in any way. Under the provisions of the Maharashtra Tree Felling Act, absolutely no tree cutting is allowed from 1st June to 30th October, as this period is the period of silvicultural growth of trees.
"However, large-scale felling of trees has been observed on the Borgaon (Manju)-Anvi-Mirzapur-Dahegaon-Palso road. There can be around 200 trees. In addition, there may be around 100 trees at Borgaon (Manju) railway station. Forest officials are groping in the dark," said eyewitness and green activist Kumar Sadashiv, Anvi.
Sadashiv also said, "Most of the trees are cut during the night. When traffic is at a standstill and taken quietly in the morning before the street bustle begins."
Also Read: People coming to RTO are flouting helmet rule, officials don't care about it