Nagpur Latest News
Trending
City's 1st and only Omicron patient detected so far
The grounds for declaring her to be an Omicron patient without showing or sharing the confirmed genome sequencing report as the positive result of RT-PCR have also been questioned
Nagpur: Arvind Patre, 40, a resident of Dighori, was the first to look for his Omicron virus-positive report when he was discharged from AIIMS Nagpur on Wednesday morning.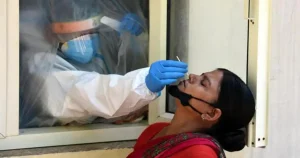 The city's first and only Omicron patient yet to be traced, Insisting on disclosing his name, The grounds for declaring her to be an Omicron patient without showing or sharing the confirmed genome sequencing report as the positive result of RT-PCR have also been questioned.
On 12 December, this state's Public Health Department also confirmed in a press statement that a 40-year-old man who had returned from Burkina Faso in West Africa had tested positive for the variant of the Omicron virus in Nagpur district.
The new strain has also been declared a type of concern by the World Health Organization (WHO).
Arvind has said that from the day this news came, he was asking about the report of the genome study, But till now no one has shown it to him.
He has also accused the municipal authorities of allegedly harassing him, family members, and neighbours.
Omicron Recovered Patient
Arvind has also said that the civil administration has done a great injustice to him and his family. He has also said that I have not met anyone, but he has also claimed that I have met about 17 to 18 people from the area. I was also at home and did not even make contact with anyone. He had also told my name to many local TV channels. And everyone was aware of my identity, because of this I do not want to hide my name now.
The patient who recovered from the Omicron virus stated that there was no heavy dose treatment except for several vitamin pills. I had asked about the positive report of the Omicron virus from the hospital, but they did not give. If I do not get the report at all, then I will consider myself negative.
Arvind also got in touch with the Zonal Medical Officer and NMC officials who said that it would also be mailed. I didn't get it till the night of Wednesday's day.
The officials of AIIMS District Nagpur have stated that the Chief Medical Officer of Nagpur Municipal Corporation (NMC) was the nodal officer, Those who have received the report of genome sequencing.
The nodal officer of Nagpur Municipal Corporation whose name is Dr. Sanjay Chilkar. He has stated that the report will be shared with the patient on Thursday as he was busy registering an FIR in a fake contract case.
Also Read: Daily new cases remained low in Vidarbha, with only 5 districts reporting Covid patients