Nagpur Latest News
Traffic Woes Created by Autorickshaws in Variety Square invites strict action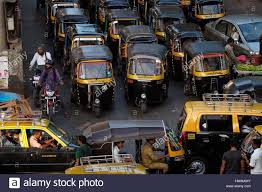 No sooner the new NMC Chief took over his office, he made to experience the city by trying things on his own. This certainly included moving on the busy roads of the city like the Variety Square near Sitabuldi. He was appalled by the auto menace, which led the Civic Body chief to summon the Dep Commissioner of Police- Traffic at his office to sort out the matter once for all.
While visiting the variety square, he experienced too much of traffic congestion created by the auto-rickshaws in the city. He was on the way to pay tribute to the Father of Nation on the death anniversary when he experienced this. When he saw the traffic jam due to the auto-rickshaws he was even offered a lift by one of the auto-rickshaws who saw him struck.
With this grim situation, it was obvious to see the NMC chief losing his temper and he expressed anguish over the pathetic role of the auto-rickshaws. He was quick to act and asked the official with him to call the traffic DCP right away asking him to report as soon as possible to the NMC Commissioner claimed one of the eyewitnesses present at the Variety square struck in the traffic.
In the afternoon the DCP reached the NMC office and Mudhe discussed the problem and asked him to take stern action on the auto-rickshaws who violate the traffic rules. They have been so many violations reported day in and day out by the auto-rickshaw drivers of jumping the red lights, taking ride on the wrong side without any fear and so on.