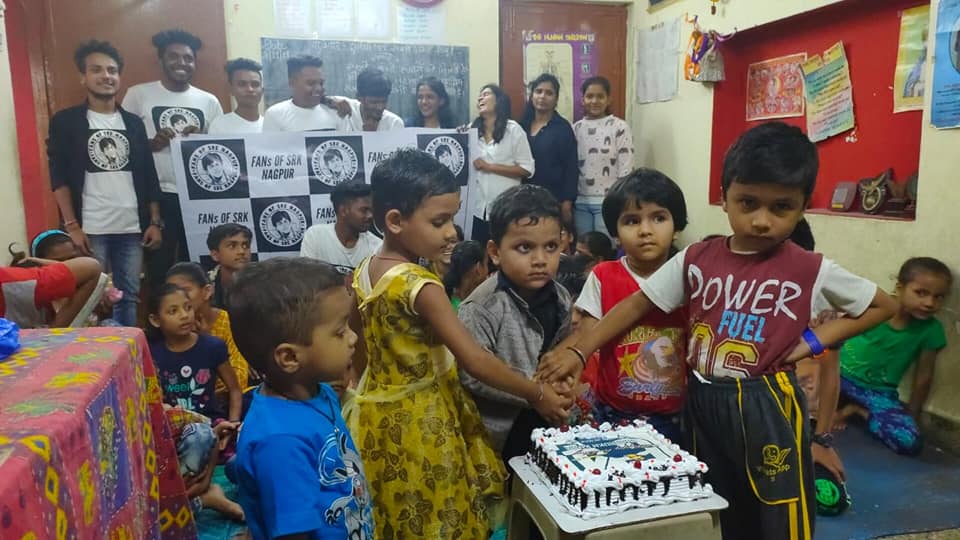 It was a gala time when Shah Rukh Khan came up with his 54th Birthday. However, in the city, the Fans of SRK Nagpur had his celebration in a different way, which anyone would applaud. The said club who is known for its ardent love for King Khan was seen celebrating his big day with the underprivileged children. The kids from the slum area were called to their meeting point and the cake was cut to kick off the celebrations.
The members of Fans of SRK Nagpur then distributed sweets and food among the kids of slum areas allowing them to enjoy good time on the big day of their hero. This is not the first time when we have seen The Fans of SRK Nagpur calling upon the kids of underprivileged sections and giving them food and having a good time together. They have done similar things just a few days before to celebrate the marriage anniversary of SRK and Gauri Khan in the city slum by distributing water and food among the unprivileged kids.
So, when the whole world was celebrating his big day in their own style the city-based The Fans of SRK Nagpur chose to be with the poor and underprivileged. In fact, they are somewhere inspired by their star in the right way as they know SRK is also involved in many charity and philanthropy work, which makes them active as well in this area. The club has been active in city organizing various events to express their love for their favorite star. These include the special screening of SRK early days movies like Dilwale Dulhania Le Jayenge.