Nagpur Latest News
Trending
Husband of deceased forest guard got a temporary job
Dr. Jitendra Ramgaonkar handed over the appointment letter of his job under the foundation only after the tribute ceremony organized at the Tadoba Andhari Tiger Reserve office located in district Chandrapur
Chandrapur: The TATR (Tadoba Andhari Tiger Reserve) administration has taken the name of Tadoba Andhari Tiger Conservation Foundation with immediate effect, Sandeep Sonkamble, husband of forest guard Swati Dhumne, who was killed due to a tiger attack inside the park, with immediate effect.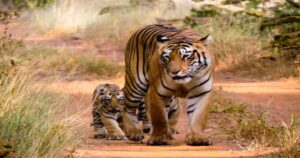 Tadoba Andhari Tiger Reserve Area Director whose name is Dr. Jitendra Ramgaonkar. He handed over the appointment letter of his job under the foundation only after the tribute ceremony organized at the Tadoba Andhari Tiger Reserve office located in district Chandrapur.
Jitendra has said that Swati's husband has been given work under the foundation till the formalities of allotment of permanent job on the compassionate basis in the forest department are completed. They will work only as temporary employees under this foundation.
Jitendra has told that he will only get the same salary that Swati had taken home last time.
Rs 15 lakh compensation and promise of a job
He has said that we have fully started the formalities for the appointment of Sandeep on compassionate grounds in this forest department. And this whole process is likely to take up to 1 week. Once this is completed, he will also get 1 permanent job as an employee of the Forest Department.
The husband of the deceased was unemployed and they also have a 4-year-old daughter.
CM Uddhav Thackeray also expressed condolences to the departed soul and his entire family in this regard. And on Sunday, the husband of the deceased forest guard was promised a job in the forest department and compensation of Rs 15 lakh.
Immediately following the instructions of the CM Uddhav Thackeray, the administration of Tadoba Andhari Tiger Reserve has started the recruitment process completely by enrolling Sonkamble under the foundation.
Also Read: Buldhana reports region first covid death in 10 days