Nagpur Latest News
Nagpur Police Tightens its Shocks as Announces Help for Ladies out in the night in the city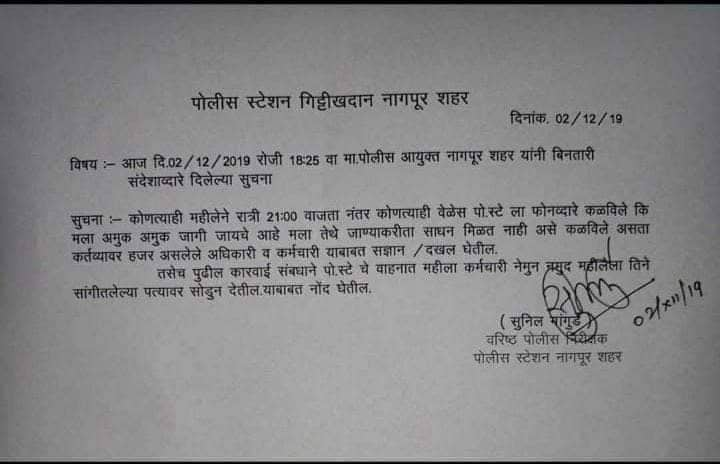 The brutal rape and murder of the young women Priyanka Reddy in Hyderabad has alarmed everyone that women not even at 9 pm seems to be safe in any big cities. This led to the murder of a young woman who was caught by some animals at 9 pm when her Scooty was punctured and she tried to take the help of some passersby. She was gang-raped by the brutal people and then was burnt alive to see the city the next day of the dead body of the young lady.
The entire country voiced against the brutal murder and rape of the young lady in Hyderabad calling many to take action. Nagpur Police also went on the toe to take all the preventive measurements for the ladies who remain out during the night time. They have launched a special service for the ladies of our city by giving special helpline numbers of the Police including 1091 and 7837018555 for the ladies who remain out between 10 pm to 6 am in the morning.
They will be taking care of between 24 x 7 and the control vehicle and nearby PCR would be just a call away to give the help the lady if she is found in any difficulty during the said hours while taking any transport or any other thing. It went on to proclaim that if the lady wants the nearby PCR or SHO Vehicle to drop her safely to her desired destination, the service would be free of cost in Nagpur. The city police of Ghittikhadan has issued this order and has asked people to share as many places as it can.