Nagpur Latest News
NMC inaugurates 75 Vande Mataram Public Health Centers
In the memory of Colonel VS Babu The health center has been dedicated.
Nagpur: On Tuesday At Bhiwsenkhori in Dabha in the evening hours the Nagpur Municipal Corporation (NMC) has opened the first Vande Mataram Public Health Centers. Union Minister whose name is Nitin Gadkari has inaugurated this health center. This is the first of the 75 such facilities planned under the Amrit Mahotsav to celebrate nearly 75 years of independence.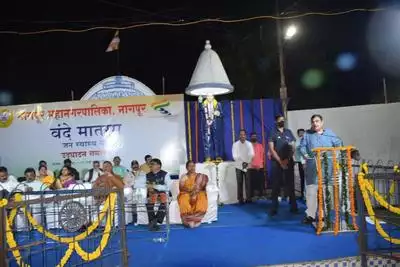 In the memory of Colonel VS Babu The health center has been dedicated.
Nitin has said that all citizens should get health services at the right time. With the help of these centers, the needy and poor people will be able to get the cheapest health services. Nagpur Municipal Corporation took this very good decision.
Mayor Dayashankar Tiwari has also said that Nagpur Municipal Corporation is organizing these health care camps to provide quality health services to every single citizen.
The civic body has now identified these locations for the remaining 74 health centers out of all the 10 zones. Now that center is coming very close to the community hall. or where no public primary health care services are available at all.
Cabin For Pharmacist & Doctor
Deputy Municipal Commissioner named Milind Meshram has said that Nagpur Municipal Corporation is now providing infrastructure. And while these health centers will be run with the help of NGOs. It has also said that these health services of first aid will be provided only for a nominal fee of about Rs 10. Manpower including nurses, doctors, medicines and receptionists will also be provided by the NGO.
Milind has also said that there are many pending civil works for about 74 centres. But all will be started very slowly. Same with a deadline of December 2021. It has also been said that each center will also have 1 cabin for pharmacist and doctor, and separate washrooms next to the counter and waiting area. Nagpur Municipal Corporation will also bear the cost of water, sanitation and electricity at all these centres.
Even if there is vacant space in many centres. Then Municipal Commissioner Radhakrishnan B has also proposed several oxygenated beds. Nagpur Municipal Corporation has now received around 150 oxygen concentrators from various NGOs and organizations.
The Nagpur Municipal Corporation had also sought expression of interest from NGOs to run the health centers on the lines of the facilities being run during the dreaded second wave of Covid. It has also been stated that around 32 EOIs have been received for these centres.
Milind has said that the biggest objective of these health centers is to serve the slum areas and all the people below the poverty line.
As part of Amrit Mahotsav, On Wednesday at Pachpauli Maternity Home, Nagpur Municipal Corporation will also inaugurate Sickle Cell Research Center.
Also Read: Nagpur coldest in Vidarbha, mercury crosses 13.4 degree celsius on November 1