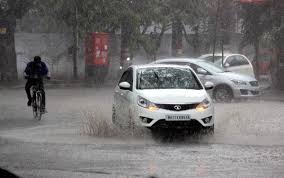 As the city gets good pre-monsoon rains, one can see too much water all around Nagpur. With the cyclone hitting Mumbai and the coastal areas, the impact of the same has given a good boost to the pre-monsoon rains in Nagpur and even to the region as well. As per earlier reports of Indian Meteorological Department published in The Hitavada CityLine, the city was expected to get minimal rains in the early days of June, while the Monsoon was expected to touch the city in mid June. 
However, if we look at the kind of rains the city has gained in Nagpur, it has been substantial. The IMD has predicted moderate rain in the city till June 4, but with thunderstorms and lightning, Nagpur has received around 22.8 mm of rainfall on Wednesday morning. The IMD is yet to release the rainfall data of the evening, which is perhaps the same as the city did witness similar sort of rains in Nagpur. With good rains in the city, the IMD has predicted a heavy rains with lightning and thunderstorm along with gusty winds on 4th June as well.
The similar was the story at places in Vidarbha including the cities like Amravati, Gondia, Bhandara, Wardha and other places. The city witnessed heavy rains in Nagpur till 5 pm yesterday and it continued for one hour with the same pace leading to issues like water logging in different places including the low lying areas and roads. This has caused issues to the roadside vegetable vendors along with others as the rain was strong enough to disrupt the traffic. Also, businesses getting back after lockdown in prescribed way, also face issues in its normal functioning.