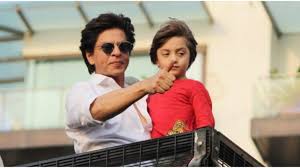 There is nothing like Delhi when it comes to celebrating any festival particularly Diwali claims King Khan who is in the National Capital with his son to celebrate the festival of lights. It is his city and the city of his wife who were born and brought up in the National Capital seen their teenage and the start of their life. For SRK, his love for acting started from theatres in Delhi only and that soon brought him to Bombay where he took the pledge to rule the city and he did.
Well, he along with his family is now in the National Capital for the Diwali celebration. He said that he finds an interesting connection of the city with different festivals and thus he decided to bring his family to take them out in the streets of Delhi to allow them to catch how the festival is celebrated there in the National Capital particularly his younger son AbRam.
While talking about the event, the actor said he has visited Delhi for Diwali for the love and friendship he gets from the city. Talking about his plans to celebrate Diwali in Delhi, he said he had to rush back to Mumbai as he has a couple of parties to catch in the Tinsel Town as well. He is only there in Delhi to celebrate the festival of lights with his son AbRam and family and allow them to catch the spirit of the city during the festive time that is hard to find out at any other place.