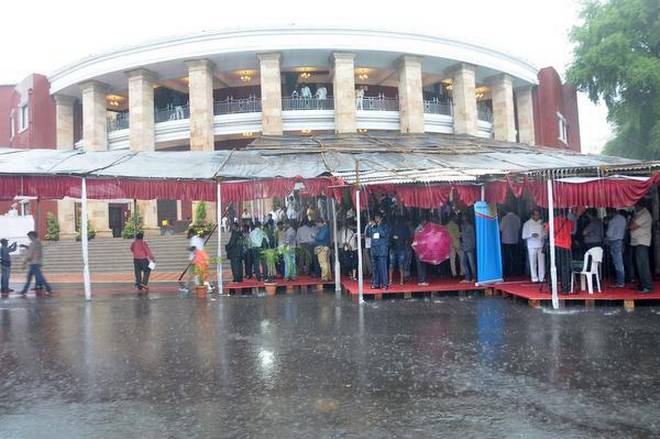 Apart from adding the surprise, the sudden rains on Friday evening also hit the normal life of the people of the city. It brought the traffic to standstill creating a big mess on the roads. All thanks to the pathetic conditions of roads with too many potholes turning bad to worse, it was added trouble for the Nagpurians with the heavy rains with thunder and lightning. The roads were flooded allowing waterlogging in certain areas to keep the city in a big mess particularly in areas like Wardha Road, Buldi and other places.
As per the weather department, the monsoon was delayed this year extending to the last week of September also affecting the Navratra to some extent, but soon it vanishes in the first week of October giving clear skies to have a good time in the nine nights and on the eve of Dusshera burning the Ravan effigy. The weather was cloudy in the city since morning and soon turned black in the evening to witness the rainfall. It was difficult for the commuters who were stuck in heavy rains and then in the water.
It started raining sharp at 5.30 and it went on to rain for the next hour making all the chaos it could with its big drop rains in the city. Now, the weather seems to have come back to normal with the sky is clear to a great extent. Yet there is no assurance to the fact that the city would get yet another rainfall. Let's see how the thing would move you can share your experiences as to how your life got affected by the rain.