Entertainment
Hussain Kuwajerwala and Keshari Enter Bigg Boss 13 as Wild Card Contestant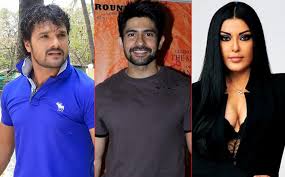 This time is a very crucial for all the contestants in Big Boss house because at this time the eviction process in the Big Boss house is on peek. Generating the chances of Wild Card entries in Big Boss house, things are going really difficult.
A similar matter in the form of the name of Hussain Kuwajerwala, who is a popular TV actor, is coming in picture as he has been recommended for a wild card entry. Official news also comes with an intercept to this matter that the Bhojpuri star Keshari Lal Yadav will also be coming in Big Boss house as wild card entry. TV actor Hussain Kuwajerwala didn't get any official announcement yet but according to the latest reports from Big Boss it can be said that the entry of Hussain Kuwajerwala should be confirmed, soon.
The most important news that makes this news more controversial is that the superstar of Bhojpuri cinema Keshari Lal Yadav's name is also mentioned for the same. Keshari has a huge fan following in that case the entry of Keshari in big boss house can affect the other contestants of the big boss. The makers of this show are also very interested in the entry of Keshari because he is an incredible entertainer as well as a good performer. So, the best part concerns to the reactions of the house members towards these wild card entries, probably entering the house, very soon. If this will happen in Big Boss house, it is going to be the best wild card entry amongst the several seasons unveiled so far in Bigg Boss house.