Nagpur Latest News
Trending
Indian Railways has started electrification of 19.2 km third line & between Wirur-Manikgarh stations
The third line project on the Grand Trunk route between Kazipet-Ballarshah also includes Maharashtra and Telangana.
Nagpur: In order to promote the smooth flow of train traffic, Indian Railways has started electrification between the third line of about 19.2 km and Wirur-Manikgarh stations only. And with this, there is also a third line facility between Kazipet and Ballarshah for a total of 84 km.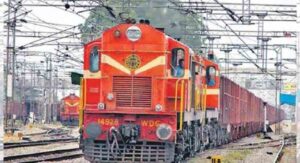 The very important 3rd line project on the Grand Trunk route between Kazipet-Ballarshah also includes Maharashtra and Telangana.
The Kazipet-Ballarshah section is a very important rail link connecting the southern and northern regions of the country. The main line section under the GT route is now witnessing steady growth in both passenger and freight traffic, due to which the section is also getting oversaturated.
In order to reduce this very important section, the tripling work was completed in the year 2016 at the very beginning of about 33 km Raghavapuram-Mandamari. This third line project of about 202 km (Maharashtra 43 km and Telangana 159 km) was approved in 2015-16 at an estimated cost of about Rs 2,063 crore.
Out of this, about 202 kms have already been completed between Potkapalli-Kolanoor-Raghavapuram, about 31 kms and 34 kms between Raghavapuram-Mandamari. Right now the work of the third line right in the middle of Wirur-Manikgarh (19.2 km) has been completed in order to give a boost to the socio-economic development of the region.
Manikgarh station is an interchange point
The General Manager of South Central Railway named Gajanan Mallya has also congratulated all the team of Secunderabad Division and Construction Wing, Which has completed the works of tripling and electrification well. Gajanan has said that with the successful completion of this Kazipet Ballarshah tripling project, the congestion on this oversaturated route will be reduced to a great extent. Due to which it will also be convenient to handle more number of trains effectively.
The CPRO of South Central Railway whose name is Rakesh Kumar. He said that Manikgarh station is the interchange point of Central Railway and also the junction connecting many cement and coal sidings. And with the commissioning of the third line on the same section, the congestion for both goods and passenger trains will be greatly reduced.
Rakesh also said that the third line of the entire project is being executed simultaneously in different sections and the work is progressing very fast in parts of both Maharashtra and Telangana regions.
Also Read: Har Ghar Dastak teams are ready to jab all