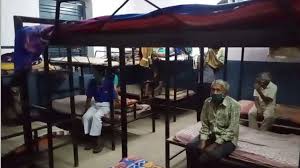 Many migrant labors are in city stranded in the COVID 19 virus. They have been locked inside as the officials are not allowing them to return home. However, most of them even tried returning home taking the way back to hometowns in Seoni and other districts of MP and Chattisgarh taking barefoot home as the transportation is shutdown between cities. The people returning home are now brought in shelter camps and are given the required food for their sustenance.
On the other side the labours want to return home despite getting food and care at these shelter homes for obvious reasons. One of the lady in one of the shelter homes was seen crying in tears while remembering her family back in her village in MP. She said she is getting food and shelter by the local authorities but they are not allowing them to return home. On the other side, the NMC officials are now asking the medical team to test them for the virus and if they are reported with negative, they should be allowed to return home.
On the other side since we see most of the transport not working at the moment with trains and buses not functioning right, it becomes difficult for them to return home. Yet, they have decided to return home by simply walking but considering the tough time ahead, the officials are not allowing them to return home. The Nagpur Municipal Corporation has created shelter homes at most of its schools run by the body including the ones in Sadar and other areas.