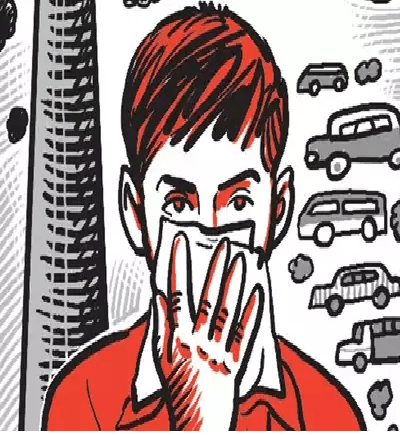 As per the recent health reports, Nagpur records the highest in the state to have low quality after Mumbai, This has alarmed the people in Nagpur and they are now willing to start their agitation against it. The group includes The Billboard That Breathes which will kick off the campaign on the streets of Nagpur starting near Krims Hospital in the city informed the officials of the group. They have made a giant size lungs to portray the intensity of the problem as they want to show how toxic is the air we all are taking in.
The agitation will start from today at the pavements of the Central Bazaar road near Ramdaspeth close to KRIMS Hospital. The drive is likely to be kicked off by the city mayor Mr, Sandeep Joshi, which is now being taken ahead by the website called Jhatkaa.org a digital advocacy organization based in Bombay of the NGO called Wattavaran along with the Center for Sustainable Development of Nagpur along with the city hospital – Krims.
The large size lungs have been created with the help of HEPA filters that are often used in surgical operations in OTs and other healthcare units. The lungs would be installed with fans that would give the demo as to how impure air is the people of Nagpur are inhaling. Similar sorts of lungs were showcased in the Mumbai based agitation as well. The agitation is likely to start from today and it will attract a large number of people and groups working in the same area.