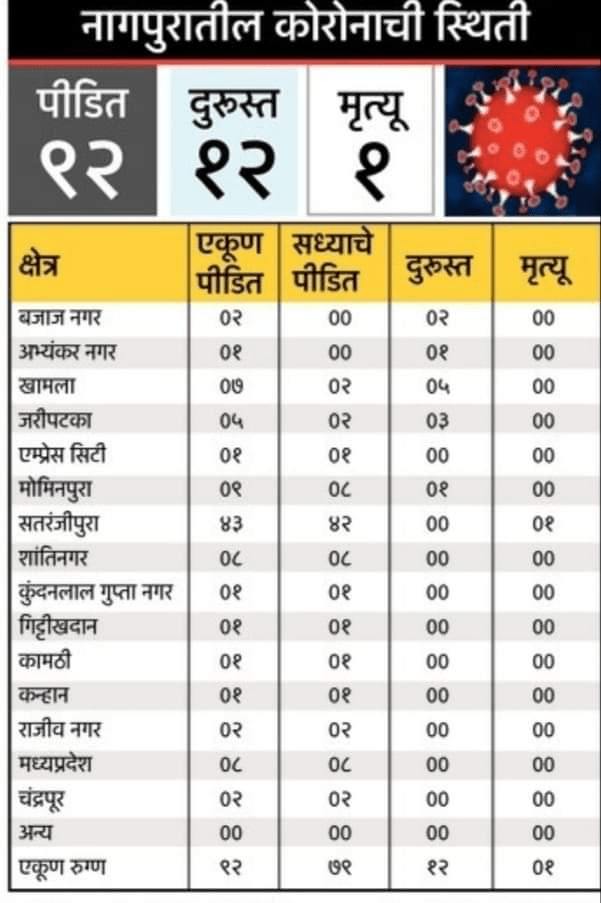 With the current COVID 19 Outbreak, the city seems to have been affected a lot in the recent past. With the figures already crossing 80, the city seems to have been entered into the red zone, which talks a lot about the plight of the city. Nagpur city seems to be in trouble with the increasing number of cases here. The table shared here talks a lot about the current plight of the city in terms of COVID 19 cases in Nagpur. Well, let's see which areas in the city affected the most.
The table was shared by the local newspaper – Lokmat, which sums up the entire position of the city as under, have a look:
The Bajaj Nagar area witnessed a total of four cases out of which two of them have been discharged with a negative report, while the two are seen inside the hospital.
In Abhyankar Nagar, only one case is reported.
In Khamla, the total number of cases was seven out of which five of the patients have been discharged.
In Jariptaka there were five cases out of which three of them were discharged.
In Empress city, the total number of cases was one.
The second-highest number of cases in Nagpur were reported in Mominpura with a total of nine cases, out of which only one was discharged while eight are still in the hospital.
The topmost area in the city includes Shatranjipura is 43 out of which one is the death case, while the rest of the people are seen admitted for the treatment.
Most of the areas are reported with one or two cases in the city while if we look at the overall picture of Nagpur, the total number of cases reported includes 92 with 79 remains in the hospital and one is the death, while 12 have been discharged.