Nagpur Latest News
Trending
Zadipatti theatre resumes with fanfare after pandemic
The season of Zadipatti starts only after the festival of Diwali and then it continues till the month of March.
Nagpur: Loud but melodious music, Sharp make-ups, sharper themes, Bright lights, brighter backdrops, and back-to-back shows of plays full of drama, dance, music, and entertainment – Zadipatti theatre is back with its original fervor this year. has come back. This pandemic break has extended 2 seasons of this lovely and rich local theatrical tradition of districts Chandrapur, Gondia, Bhandara, and Gadchiroli.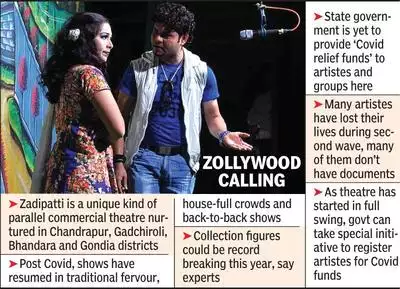 The season of Zadipatti starts only after the festival of Diwali and then it continues till the month of March. This year in 2021 as the covid pandemic subsides and the state government completely allowed theatrical performances, Zadipatti is now the first in this state, and that too with double enthusiasm once again.
Zadipatti veteran Sadanand Borkar has said that we were initially skeptical about the reaction of the people. Only 2 weeks have passed since the festival of Diwali. The response of all the people is also tremendous. I am sure that in the coming 2 months the theatre will regain its original glory. And we can also expect an absolutely record breaking collection this time.
Two New Plays
Affordable tickets and packed shows are the 2 most special features of Zadipatti Theatre. And both are visible irrespective of the testing times of the covid pandemic.
One can get tickets as cheap as 15 rupees to take this one full time game. And for 50 rupees you can also watch its back to back shows. Since the number of people watching is in thousands. The collection of these plays very easily crosses the 5 digit mark. The plays by actors from Nagpur and Mumbai with multiple television and cinema backgrounds add up to even more.
"We have entered 2 new plays this year in 2021. And there is a huge demand for these shows too. It is a pure love of all these people towards theatre and nothing more. And now we have one show after another scheduled in the region of Zadipatti. And I am all excited about it," said Rajesh Chitnis, senior director and actor, who hails from Nagpur.
Many amateur theatre actors in district Nagpur, and many who are struggling too hard to work on a professional stage in Mumbai and Pune, spend months at Zadipatti.
The Vice President of Akhil Zadipatti Natya Kalawant Parishad whose name is Deva Kawale has informed that the booking inquiries for Zadipatti theatre had started in the month of October itself. "It seems to me that Zadipatti was the first commercial theatre to be started after the covid pandemic. As soon as the government gave complete permission to these shows, then the interrogation of us had started. You can see the entire house at all the places in Navargaon, Lakhni, Antargaon, Desaiganj Wadsa, Palaspani, , and Zadi area," he said.
Also Read: Work of repairing potholes is also bumpy ride