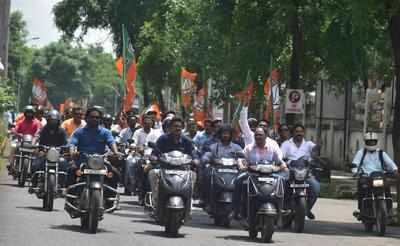 The Nagpur Traffic Police seems to have set a good precedent for booking 52 BJP workers who were seen violating the traffic rules during the recently organized bike rally for violating traffic rules. The party workers were seen on a bike rally to welcome the party's national working president JP Nadda. The rally had a huge amount of bikes, motorcycle, and cars in the city, which moved on different locations particularly from the Nagpur airport to Deekshabhoomi, when the party president had visited.
Many of the bikes in the rally witnessed three people riding on the bike without wearing helmets and having seat belts. Earlier the City police did not act on the workers violating the traffic rules, however, with Senior PI Rajkamal Waghmare getting serious on this issue after getting the video footage from different CCTV cameras installed at the various areas and squares took the action. Once he checked the footages, the police team identified 52 BJP workers, all were seen with their two-wheeler riders, riding with the triple seat or without having helmets.
Later, eight BJP workers were issued challans for a helmet while 44 of them were fined for riding triple seat. Seeking the registration numbers of these vehicles, the Senior PI was seen preparing the challans and then imposed to them for the amount of INR 16,700 on the violators. The political bike rallies have been often the common sight during bike rallies. Unfortunately, the elected representatives at various levels are the first one to violate the law and take things in their own hand. But with police acting on time, they seemed to have put a good precedent claiming that no one can be above the law.