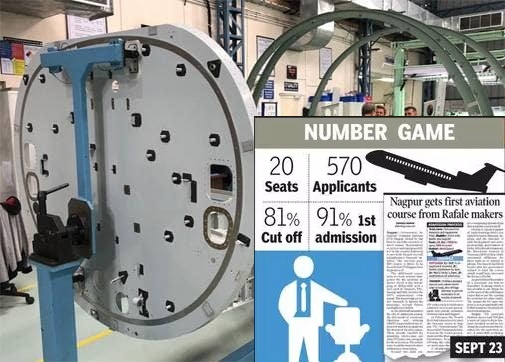 The recent news of Government ITI launching first of its kind course in aviation sector dealing with high-end jets like Raffle and similar jets in the world have overjoyed the Nagpuris. The course was the byproduct of the collaboration between the French Aviation company called Dassault Aviation and Government ITI to introduce the said course for the city students. The moment the applications were made open for the students, it started getting an overwhelming response.
As per reports, for the 20 seats, an aviation-related course meant for ITI students a whopping 570 applications have been received by the Government ITI. The skilled-based training program will be strictly choosing students as per the merit basis and have been rolled out for the students of Nagpur and districts of Chandrapur, and Bhandara who are enrolled in the college rather than taking fresh admissions. As per the Principal Hemant Aware of Government ITI, the admissions are closed with the cut-off going the highest this time closing by 81 percent starting from 91 percent.
The authorities are happy that they have got bright students for the said course. A majority of students enrolled for the said course are from the fitter and electrician courses who switched to the newly introduced aviation course. The said program is likely to begin by this December and it would be dealt with by the French faculties of the aforementioned company. The company will also is expected to bring the aircraft for demo and practical sessions. The principal informed that the next session would likely to have number seats.